Hi ilises,
I just returned from Rome on MSC MUSICA last Friday.
We had the best time of my life:
I had feeling like Gregory Peck and Audrey Hepburn in
ROMAN HOLIDAYS
.
We checked several provider of tours and as we found most of the quototations much too high we found one company which is called
CAST
.
After I told that I do not want to spend more than for a ship's shore excursion tour, Massimmo developped following solution.
The section Civitavecchia - Rome is very boring. You can be caught in traffic jam during the rush-hours.
We could get from board about 8.30 am.
So we used the free shuttle bus to the port area entrance.
From there you just walk 1/4 mile to the station.
As we booked our tickets in advance from
Trenitalia
we could skip all queues and collect the tickets at the ticket machine. (Do not forget to cancel the ticket in the machine.) As Regional trains starts from Civitavecchia you have lot of seats in the trains.
We catched the 9.41 am regional train to Roma S. Pietro which we reached 10.27 am.
Tickets are about 7 USD (one way).
At the train station we have been collected by our tour guide. She took us with a short walk of 10 minutes to St. Peters Sqaure.
She was great:
she knows the entrance with the lowest frequency -
she knows each square inch of Rome - when we wanted to make photos - she just told us to walk for another few inches and get a better view - she was willing to make some photos of us so we have also the best memories always together - she knows all clean toilets free of charge
So we entered the St. Peter Basilika and enjoyed this.
Later a car collected us. A nice Mercedes-Benz van for 7 passengers with a lot of space and a very nice and experienced driver who goes through small lanes normal sightseeing coaches cannot pass:
It was raining - so we did not need to walk through the narrow lanes and we could see all these sights
He parked just in front of the Spanish steps or just one block away from Trevi Fountain and later passed it in the bus.
This picture was made on the Capitol hill. No reguar coach can drive up on this hill:
We went to a place there was no other tourist than us:
Have a look through this key whole: three countries:
The garden belongs to a foreign embassy, Italy and Vatican City.
We passed Sophia Loren's house during her Rome life: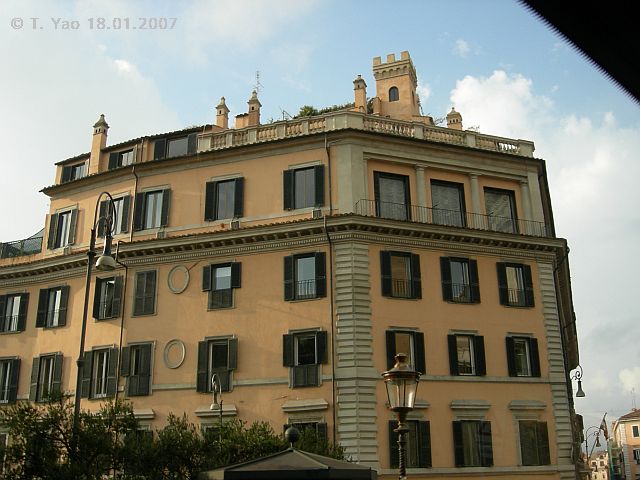 The question here was: was the tour a big success?
Yes - otherwise I will not be able to type this posting without a hand.
We were released at about 3 pm at Rome Termini station and had a lunch with our guide. We returned 3.52 pm back to Civitavecchia where we arrived at about 4.30 pm. Before 5.00 pm we were back on board.
Have same fun in Rome like we have.
Have a nice trip!
Hope this was helpful for your schedule planning.
GREAT VALUE!!!
Regards,
HeinBloed